200 E. Highland Ave, Suite 1, Clermont FL 34711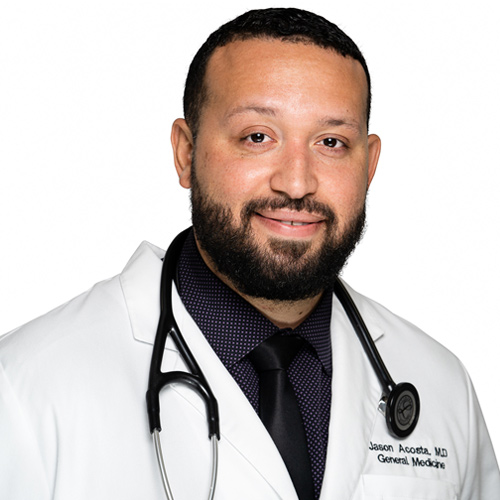 Dr. Jason Acosta is a Family Medicine specialist with extensive experience in emergency medicine. He graduated as a physician from Universidad Iberoamericana in the Dominican Republic in 2012 where he also obtained a degree in Microbiology and completed his residency program at the Manatí Medical Center in Puerto Rico.
Originally from New York, he discovered at an early age that he wanted to help other people find wellness in their lives, and found that Medicine was the best way to achieve this. In his spare time he enjoys going to the gym, drawing, playing basketball, cycling and hiking. He also enjoys volunteering for The Humane Society.
Dr. Acosta dedicates the necessary time to getting to know his patients and guiding them in the journey towards better health. Along with his SaludVIP team, Dr. Acosta is passionate about helping his patients achieve the highest quality of care.
On behalf of Dr. Acosta and SaludVIP, We thank you for choosing us as your partner in the pursuit of better health!
Your wellness is our greatest treasure.
Open access so that you can see your doctor, when you need at anytime.
Call us today to get the care you need, all under one roof.
Hypertension & Cardiovascular Diseases
Routine Physicals & Checkups
Flu Vaccination & Prevention
Chronic Disease Management
COPD & Pulmonary Diseases
Top Three Keys To Better Health!
Better Health does not just happen; it must be actively pursued.
Partner with a great doctor
and medical team.
A medical team actively engaged and
interested in maintaining your health is key.
See your medical team
for preventative care too.
"Sick-care" is the old way,
but "Health-care" is the new way!
Pursue an
active/healthy lifestyle.
A healthy lifestyle can be an adventure – new activities, new recipes and even new friends!